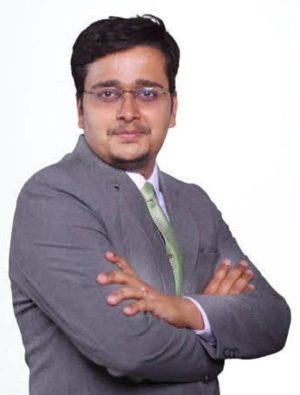 Malhar Dhonsale
Assistant Professor
AISSMS College of Hotel Management & Catering Technology, Pune.
21st June 2022
Let's set your Dhyaan,
Yoga it is followed for almost 5000 years & it is an old tradition of India. By doing yoga humans can achieve harmony, peace & mental happiness in the mind & body. In December 2014 UNGA declared 21st June as the International Day of Yoga. So this year we are celebrating the 8th International Day of Yoga at our AISSMS College of Hotel Management & Catering Technology, Pune.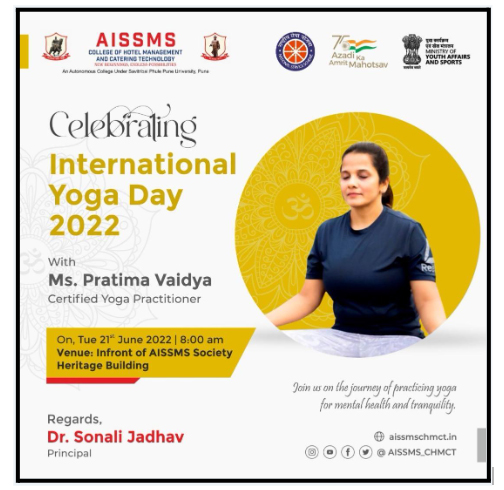 As yoga is a priceless gift from ancient traditions of India, on this 8th edition as per the Ministry of Ayush, GOI, the theme was 'Yoga for Humanity'. As everyone should do yoga regularly to feel great. So roll out your yoga mat & Get Ready. In this yogic world, everyone is like Yogi & Yogini & can enjoy holistic tranquillity present in our nature & surroundings. It will not matter whether you have a weight problem, you don't feel fit or you are too young or too old to practice yoga let's understand anyone in this world can do yoga if you want mind calmness & strengthened fitness for your own body.
Practicing yoga is not anything like fancy workouts, you will not require many things to do yoga, you just have to carry a yoga mat or simple plain sheet to lay on the ground & then after that you can start performing simple yoga poses, Asanas & Meditation. Once you start performing these activities you start identifying yourself, you start finding your soul & peace. To stop your work stress one can do breathing exercises & calm your mind which can help you in performing better in the organization. 
Yogini Pratima Vaidya very beautifully & clearly showed Asana's- Savasana, Padmasana, Hatha yoga practices & Meditation techniques for our students & faculties at the AISSMS campus. Further, she guided students on the importance of doing early morning yoga & following healthy eating habits.
Glimpses of a lively yoga session at AISSMS
Before Yoga:
Yoga Body Poses & Asana's: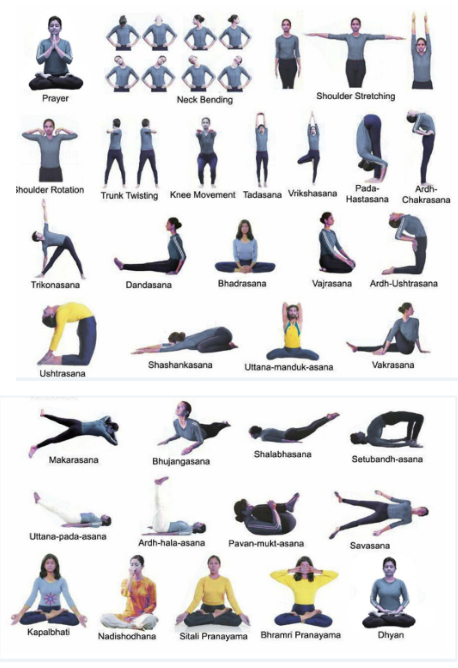 11 a's of Yoga Vocabulary:
| | |
| --- | --- |
| abhasvarah | A collective name of sixty-four devas |
| abhava | Absence; non-existence; lack; non-occurrence; negation; nothingness |
| abhibhava | Overpowering; subduing |
| abhikramanasa | Loss of efforts |
| abhimana | Self-conceit; pride; any misconception |
| abhinivesa | Instinctive attachment, specially to one's life |
| abhivyaktikarana | Cause of manifestation |
| abhogah | Winding; curving; a serpent; enjoyment |
| abhyantaram | Internal; inner; inward |
| acyuta | Permanent |
| abhyasayoga | Yoga achieved through abhyāsa |
At least every one of you can start doing yoga daily for 15 minutes without failing. And can follow the below guidelines to keep your body healthy
Some Suggestions for Psychological & Physical Well Being:
-Follow Yogic Diet
-Practice Yoga Daily
-Drink Health Beverages
-Cut Back On Sugar & Salt
-Consume Less Fat
-Prohibit Alcohol & Smoking
-Proper Good Night Sleep
YOGA FOR ALL…YOGA FOR HUMANITY…