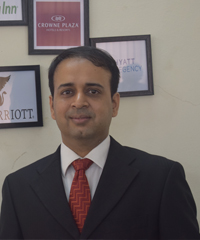 Dr.Sameer Diwanji
Associate Professor and Training and Placement Officer
AISSMS College of Hotel Management and Catering Technology
We at AISSMS College of Hotel Management and Catering Technology, Pune have always given importance to practical education and latest industry trends.
The students of final year of 4 year degree BHMCT – Front Office and Housekeeping Specialization visited the iconic Taj Mahal Palace and Tower, Mumbai for their heritage tour and Conrad, Pune for night shift operations last semester. These visits had whetted their appetites for more. They set their sights on something that was never attempted before – an international study tour to Singapore.
An elaborate presentation was made and presented to the Principal, Dr. Sonali Jadhav who whole heartedly supported the initiative.
The students along with concerned faculty planned everything. A budget was made and all work started as per the same. The best rates for flight tickets, backpackers' hostel, visa, documentation, insurance, forex – all was a very learning experience. Simultaneously getting permissions from the hotels in Singapore to allow us to visit them, property round and showcase their best practices was done. Permissions, undertakings were done.
It was a wonderful study tour with iconic hotel visits. The use of technology, best practices of the hotels fascinated the students. It opened their horizons and helped them have a world view of the hotel industry. Interacting with management teams of the hotels, asking numerous questions, following dress code and etiquette added to the learning. More importantly, the study tour was very aspirational for the students.
Even if the best practices study tour leads to one student being motivated to work for the best of hotel brands across geographies and pursues a career diligently, this initiative can be termed very successful. An eye-opener in many ways!!!
We at the AISSMS College of Hotel Management and Catering Technology continuously strived to give our students the best education and industrial exposure to make them ready for future endeavours. This value-added education is what makes AISSMS CHMCT one of the best hotel management institutes in India.