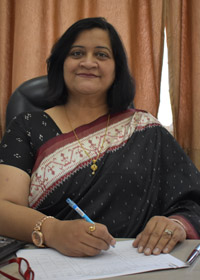 Dr Anuradha Karmarkar
AISSMS College of Hotel Management & Catering Technology
Students during their education undergo different levels of learning. Lot of emphasis is given on attending theory classes, where they learn content but when it comes to hands on training, hotel training and participating in college events are the best way.
Students must be encouraged to participate in the events organised by college as they love to work in an environment where they get some free hand, they go out of their way to do things, and enormous creativity is seen being executed during this hands-on learning, leaders feel the responsibility and get tasks done from their fellow students. So basically all the types of learning whether it's Participative, Cognitive, Skills development or Experiential learning, is all happening simultaneously. That's really wonderful. It also has a significant positive impact on psychology of the students. They are much happier than being in the classroom.
Events also develop social skills and empathy in students, which is one of the integral dimensions of emotional intelligence (EQ). The interactions or conversations elicited by events helps students not only to explore their abilities and leadership quality but build relationships, understand different perspectives and not to forget, it's the most effortless way of making friends .
So our professional courses may relook at the content of the curriculum to make it more practical based than theoretical based.
We at AISSMS CHMCT truly believe that along with classroom learning, co and extracurricular activities planned for the students encourage them to showcase their skills, gain confidence and develop team spirit and leadership qualities in them. Then may it be ATITHYA – Hospitality competitions, Theme Dinner, Formal Lunch, Book Reading competitions, Essay writing competition etc. to name a few, each activity brings out best of the talent and is a fantastic learning opportunity for the students.