Dr. Milind Peshave
Professor,
AISSMS College of Hotel Management & Catering Technology

Have you ever come across anyone who has said that "I don't like good food & want bad or average food?'' Bet not! Good food is one of the few things that is common & liked by everyone on this earth.
Culinary- a unique art of preparing & cooking food. 
The culinary field has received a lot of attention in today's world. Thanks to the electronic and print media that has glorified this unique art & has shed light on its significance. Whenever a student aspires for hospitality education, the area of Culinary Arts is the major attraction which enables him to dream of becoming a Chef one day. The last couple of decades have unfolded the journey from a Cook to a Chef. The culinary industry has seen some futuristic changes that differentiated these two terms- Chefs & Cooks.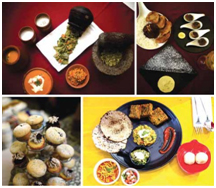 In such a scenario where more and more students dreamt of becoming chefs, the importance of culinary education was identified by hospitality educators. Today, Culinary Schools are at a very nascent stage in India and more focus is on generic hospitality education. However, this specialized culinary education is on the rise globally, paving the path for establishing state of the art Culinary Schools for nurturing the future culinary wizards.
Culinary in India
India being one of the fastest growing economies of the world also has an advantage of the demographic dividend. In such a favorable situation, the hospitality industry or in general the food industry holds an immense potential to take a leap. To talk of the current scenario, the Hospitality Industry is worst hit by the ongoing COVID-19 pandemic. That being so, we cannot ignore the fact that it contributes & forms a major component of India's GDP. And looking at these statistics, I strongly believe that it would be the first industry to make a comeback and that too, with a big bang.
Considering the weight of the hotel industry in the GDP, if India has to grow in the near future, it has to lay major emphasis on the growth of the Hospitality and Tourism industry. The demographic factor also favors this growth. Food is the majorly consumed commodity in the entire world and especially if you relate to the younger population that India is heading towards, the food industry is a major participant. Once in place, this step will create ample opportunities for chefs to curate newer recipes to fulfill all the changing preferences of Indian youth.

What does culinary art need?
It's rightly said that the gateway to someone's heart is through his stomach. To capitalize on this opportunity, there is a great need of creative and artistic chefs who can create magic on the plate with their culinary skills. To encompass these skills, the aspiring chefs are on a lookout of good culinary schools. Unfortunately, due to lack of quality education in this field, they are left with no choice but to pursue education in foreign countries.In this entire bargain, we as a country lose some of the greatest talents since their culinary education may not appeal Indian consumers even if they come back.
Today, where Indian consumer market is eyed by all multinational companies, it's high time for the hospitality education fraternity to consider provision of quality culinary education that thinks Global but acts in a Desi way. After all, we are eyeing the Indian consumers, so who better than Indian Culinary schools can address this issue?
Without a doubt, the diversity of food in India is phenomenal which demands more conservation by the culinary schools. By nurturing the Chefs in Indian cuisine, Indian culinary can be beautifully treasured & at the same time create an ocean of opportunities for the aspirants of Hotel Management.
Culinary in Hotel Management Colleges
Majority of the culinary schools across the globe focus on European cuisine. Yes, it has been in fashion for a long time but trends are changing and this change has to be captured by the culinary schools by designing more practical modules. AISSMS College of Hotel Management & Catering Technology is one such autonomous HMCT college that offers a holistic education with a lot of emphasis on practical exposure.
Doubtless while saying, if in the future Indian population has to be fed, it has to be in an Indian way. So it's a great opportunity for Indian Culinary schools to take upon this time now. Infact, this won't remain stuck to Indian glory but also attract the foreign talent to lay their hands on it. AISSMS HMCT is the best example of attracting foreign talents for education. With international students it has paved a robust educational module & an example of how much potential Indian Culinary holds.
So sky's the limit for such colleges who develop a vision of creating the world's greatest Chefs and that too Made in India. So let's join hands to create some finest Culinary Artists and wait for the magic to happen.