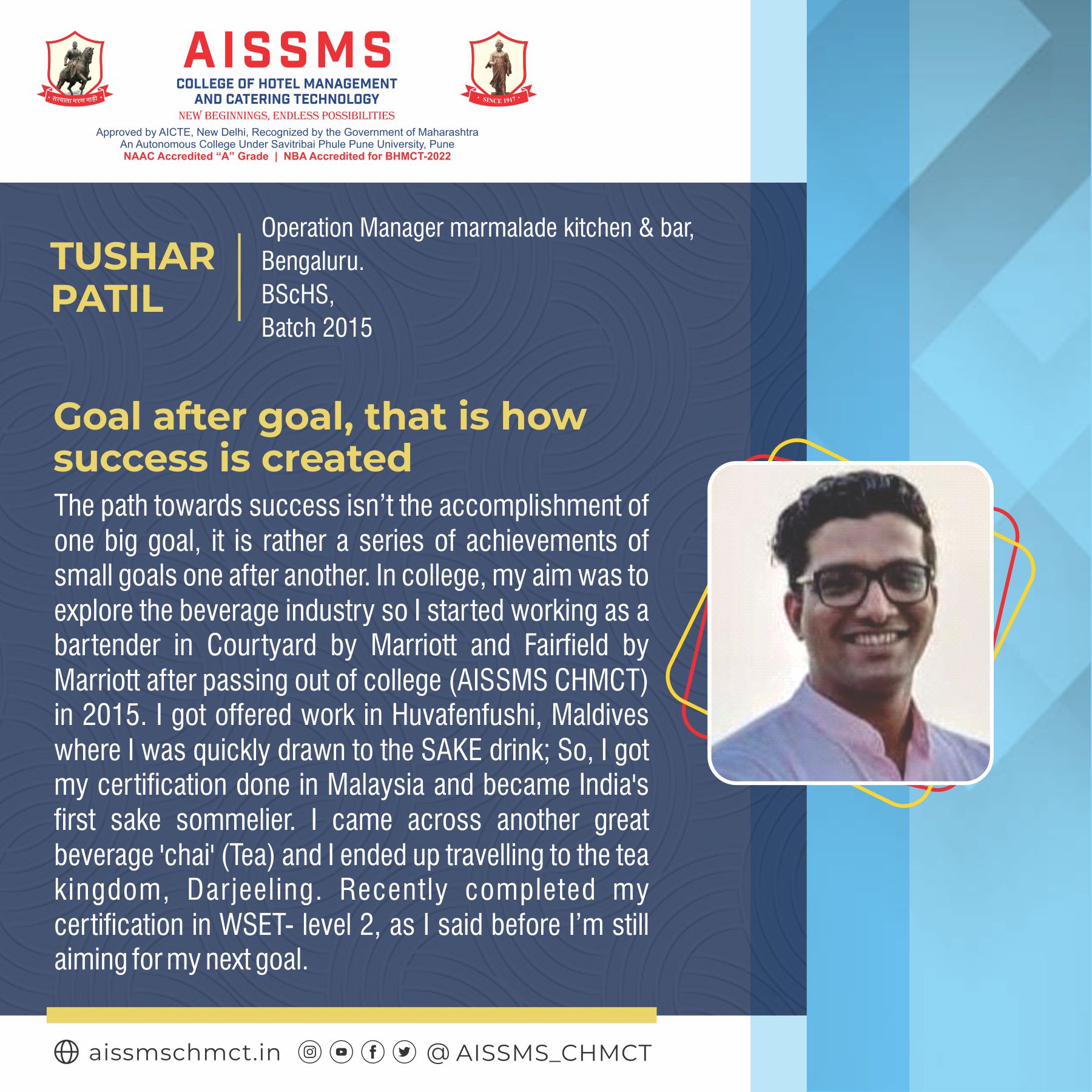 Tushar Patil
Operation Manager Marmalade Kitchen and Bar,
Bengaluru.
BSC-Hs, Class of 2015
I believe we succeed when we start aiming for our next goal every time after achieving something. But for that, you have to start from somewhere. While in college my aim used to be being good at what I do which I learned at college. I won several Bar competitions, and that's where it clicked to me that I want to continue in this dig as much as the knowledge I can get in the beverage industry. I started working in the industry after passing out of college ( AISSMS CHMCT) in 2015. I joined Courtyard by Marriott and Fairfield by Marriott Bangalore as a Bartender at specialty restaurant BG's. It became a great opportunity for me as it was a pre-opening property so it was my responsibility to set the whole bar from zero. And there I felt it was an opportunity for being a fresher i should learn a lot and guess what; I was lucky enough to work under Mr.Kishore Thadikmala, a big name in the beverage industry. As I continued working there suddenly one day, I got a random call from my Industrial training days manager asking if I would like to work in the Maldives. I moved to the Maldives as a bartender and started working with Huvafenfushi Maldives. It was a dream come true and a different world of hospitality. There I came across a lot of different beverages but the one that took my attention was SAKE and that's when I decided to be a sake sommelier. It was not an easy task because it was something that a lot of people are not into. So I googled where the course is done and how to get there. I finally traveled to Malaysia and got my certification done and became India's first sake sommelier and in the Maldives what a happy moment. There I got my first promotion as a sommelier in JOALI MALDIVES. While working as a sommelier my job was to take care of all tasting sessions which includes (wine, sake, gin, whiskey, and cognac) and as a beverage enthusiast, it was great learning in that role and challenging at the same time because when you take tasting you have to be prepared with detailed knowledge and that made me go forward with more learning and get as much knowledge I can get. I came across another great beverage, our everyone's favorite 'chai' (Tea) so thought of going into more detail and I ended up traveling to the tea kingdom, Darjeeling.  It was quite a journey exploring the world of tea. And as I said before I'm still aiming for my next goal.I display a rare and cherished quality of connecting with team members to ensure the organizational goals are met. This is a part of my current role as food and beverage operations manager at the iconic Marmalade bar and kitchen based in Bangalore. Apart from ensuring a smooth operation, I also deal in recruiting the correct talent, procurement, business development, and maintaining a guest relationship. My team and I believe in good food and good service as the mantra of success for any food and beverage organization.