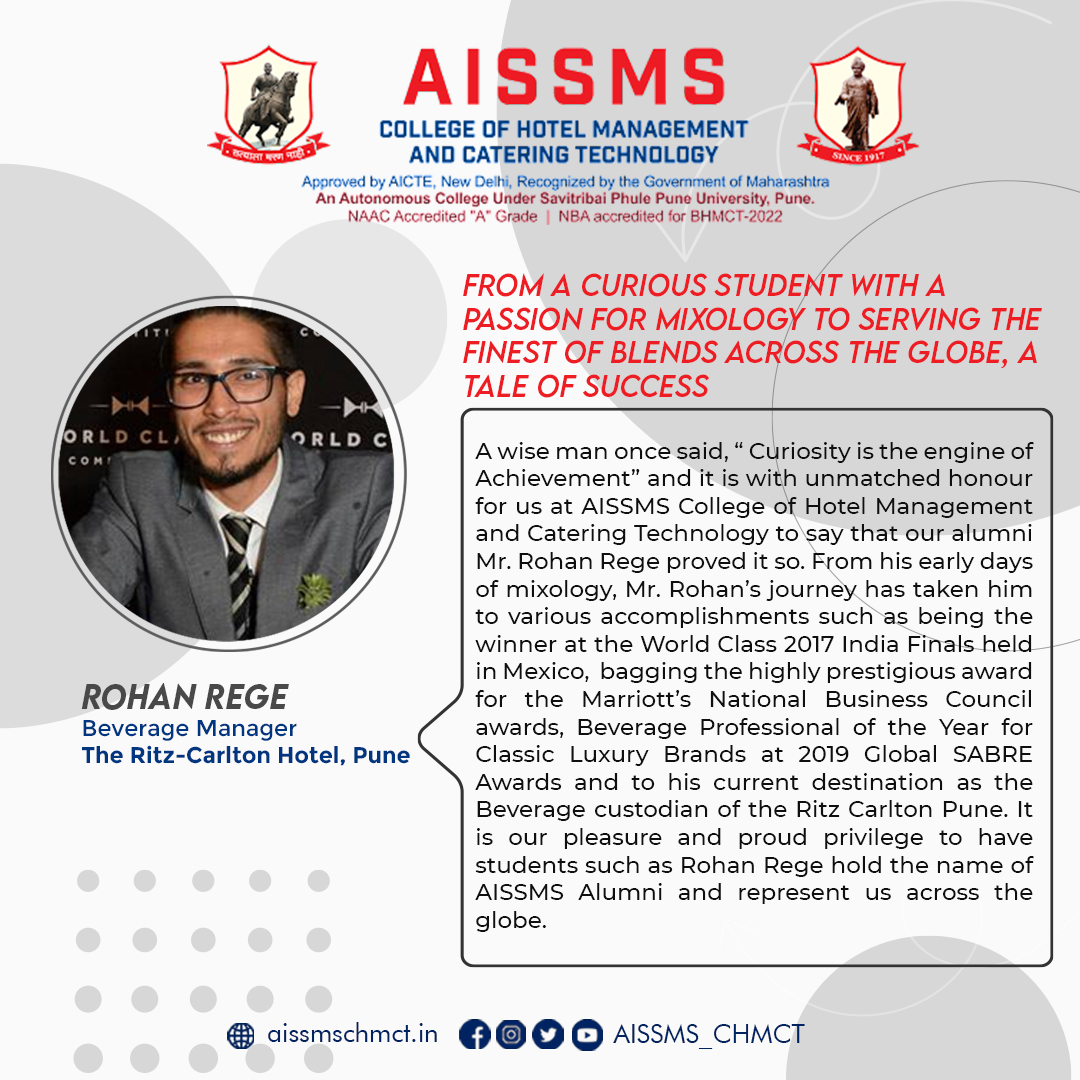 Rohan Rege
Mr. Rohan Rege, an alumnus of AISSMS College of Hotel Management and Catering Technology, completed his B HMCT in 2014  The excellent faculty and their patience always helped Rohan's to explore his curiosities, allowing him to think out of the box during his graduation and use those results in future for his career. He believes, at AISSMS, the faculties are a group of supportive and open-minded people that are a great source of inspiration. College of Hotel Management and Catering Technology's inculcation of discipline and the culture of value-based education proved to be the keys that opened up Mr. Rohan Rege's paths of possibilities in his career.
From a curious student with a passion for mixology to serving the finest of blends across the globe, a tale of success
Rohan Rege began his journey as a mixologist in 2014 in the service team. It was his passion and desire to learn about what intrigued him when it came to the vibrant world of cocktails and mixology. He spent his formative years working tirelessly at mastering the tricks of the trade. Rohan's interest triggered a journey of experimenting with recipes, going deep into acquiring knowledge about the various processes.
By 2019 he was promoted to a Beverage Manager's position where Rohan spearheads the bar programs for the Ritz Carlton Hotel, Shortly after, Rohan was given the opportunity to add another feather to his hat, being selected for one of the highest accolades awarded to food and beverage professionals within Marriott International – Beverage Professional of the Year for Classic Luxury Brands at the 2019 Global SABRE Awards. Giving a tough challenge to others from across the globe, Rohan exhibited his unparalleled passion for concocting beverages with a perfect blend of technique, intuitive creativity and astute focus on how the various ingredients come together.
Rohan admires his journey from student to alumnus and now to the Beverage custodian of the Ritz Carlton Pune. He asserts that whatever he learned at this institute is priceless and is thankful towards AISSMS for never holding him back from exploring his curiosities l at every step of his life and career. He adds how they entered as stones and came out as diamonds out of AISSMS.