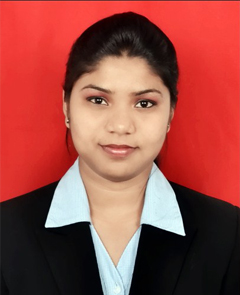 | | |
| --- | --- |
| Name of Teaching Staff | Dr. Prerna N. Bhautik |
| Designation | Assistant Professor |
| Qualifications | BHMCT, MHTM, NET in Tourism Administration and Management, MBA (HR), Ph.D. |
She completed her Bachelor's Degree in Hotel Management and Catering Technology and Master Degree in Hospitality & Tourism Management from LAD College Nagpur. She has also cleared UGC NET 2012 in Tourism Administration and Management in the first attempt. She had done an MBA in Human Resource Management from IGNOU. She successfully submitted her Ph.D. research work thesis to R.T.M Nagpur University in Jan 2018.
She started her career as a Front Office Assistant with the Kamat Group of Hotel (VITS Nagpur). She shifted from operations to Academics and have worked with the reputed institutes and colleges of Hospitality & Tourism from Maharashtra like Twelve Schools of Hotel Management Baramati, S.N. Arts, D.J Malpani Commerce, and B.N. Sarda Science College Sangamner, Sinhgad Institute of Hotel Management and Catering Technology Lonavala.
Having 7 years of experience in the hospitality industry and academics she had taken Training Session for students and MTDC employee at Malshej Ghat and Mahabaleshwar under HSRT program and got appreciation letter from MTDC resort Manager of Malshej Ghat.
Professional Experience Hotel/Organization
Designation Held
From
To
Kamat Group of Hotels (VITS Nagpur)
Front Office Assistant
June 2010
July 2011
Twelve Soils School of Hotel Management, Baramati
Lecturer – Accommodations Operation
Sept 2012
July 2014
S.N. Arts, D.J Malpani Commerce and B.N. Sarda Science College, Sangamner
Assistant Professor
B.Voc Hospitality & Tourism
July 2014
July 2017
Sinhgad Institute of Hotel Management and Catering Technology, Lonavala
Assistant Professor
B.Sc Hospitality Studies
July 2017
July 2018
AISSMS CHMCT, Pune
Assistant Professor
B.Sc Hospitality Studies
July 2018
Till Date