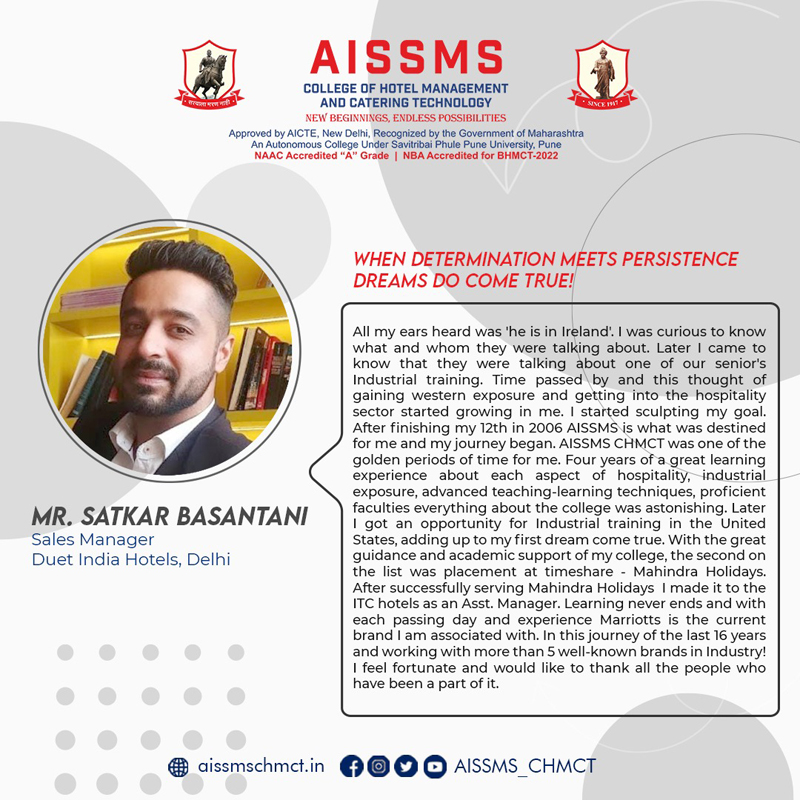 Mr. Satkar Basantani
Sales Manager
Duet India Hotels, Delhi
An indistinct conversation on the dining table, as someone's heroic achievement, was being discussed. All my ears heard was 'he is in Ireland' whispered one of my classmates sitting next to me. Dinner time got over and we all were sent to our rooms. With those words echoing in my head I was curious to know what and whom they were talking about. Later I came to know, that one of our senior's Industrial training is what it was. Time passed by and this thought of gaining western exposure and getting into hospitality started growing firm.
2006 12th Board results were out and as a charted path for the next step of life after school, we all were in a phase to move ahead in our career paths. AISSMS is what was destined and my journey began. Four years of a great learning experience about each aspect of hospitality, and here it was an opportunity which I got- Industrial training in the United States, adding up to my first dream come true. With the great guiding and academic support of my teachers and college faculty, the second on the list was placement. My first job in timeshare – Mahindra Holidays. Words can't be enough to express that feeling of having that offer letter in hand. Sheer sales are what I inherited in me during those two years of tenure. A convincing power to believe that with great conviction and faith even a future 25 years of dreams could be sold, within an hour. Moving ahead I overcame each professional and personal obstacle with grit to keep growing both professionally and personally as a human in life.
In 2012 I decided to relocate to Delhi and move from timeshare to hotel sales. The downfall of two months without a job was learning in itself. The time came and hard work paid off. I finally got an opportunity to work as a Catering sales executive with one of the pre-opening properties of Hilton. From sunny afternoons to shivered winter eves I remember bearing it all and in return getting the most valuable experience of hotel catering sales, negotiations, and guest handling, along with both cultural and corporate events exposure.
One of the things that we chose and we must earn in life is people. Relationship and market knowledge are the two most important assets I made in this tenure of three years with Hilton and moved to my next venture of two years as an Assistant Manager with ITC Hotels.
Learning never ends and with each passing day an experience of three-valued years with Pride Group of Hotels as Regional Sales Manager, helped me to grow both in my professional career and financial values. Keeping patience and hard work as my strength in tough covid times, Marriotts is the current brand I am associated with.
In this journey of the last 16 years and working with more than 5 well-known brands in our Industry! I feel fortunate and thankful to all the people including my faculty members, my family, my leaders, and everyone who has been a part of it. To conclude I would like to share that I always remember "Success comes from experience and experience comes from bad experiences". So never let failures and bad days in the office pull you down. Along with growing in my professional path, I learned it is important to grow as a good human too. Let's keep humanity alive and make it a better place to live.