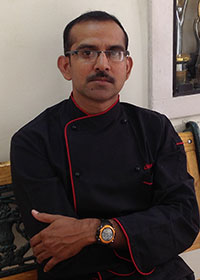 Name of Teaching Staff
Dr. Hemraj Patil
Designation
Assistant Professor
Dr. Hemraj Narhar Patil: University of Pune Approval No: CCO/2058, dtd. 09.03.2010 w.e.f. 24.12.2009
Qualifications
MTM, BSC-HTM, B.A (English), DHMCT
Being a global player, he started his career from the Royal Mirage Hotel, Dubai in the year 1999 – 2000. He has to his credit the nomination for the best employee of the year award in the same organization. He then shifted to Hilton Kuwait Resort as Demi-chef de Partie. He has also won the best chef prizes in International Chefs' Competitions by Nestles held in Dubai. In the year 2003, the winning recipe for this competition was published in the menus of Masters Nestle Book. After his stint in the international hotel, he joined the Carnival Cruise line as a patissier. This international exposure has helped to develop his knowledge and skills, thus making him a Chef par excellence.
| Professional Experience Hotel/Organization | Designation Held | From | To |
| --- | --- | --- | --- |
| Royal Mirage Hotel, Dubai | Commis II | July 1999 | 12th  September 2000 |
| Kuwait Regency Palace Hotel, Kuwait | Baker | December 2000 | 7th August 2002 |
| Kuwait Hilton Resort, Kuwait | Demi chef de partie | January 2003 | 8th February 2004 |
| Raj Bakery | Bakery Incharge | April 2004 | 30th June 2005 |
| Carnival Cruise Lines, USA | Patissier | February 2007 | October 2008 |
| Metropolitan IHMCT, Pune | Lecturer | July 2005 | 31st January 2007 |
| Maharashtra State IHMCT, Pune | Lecturer | January 2008 | 31 December 2008 |
| AISSMS College of HMCT, Pune | Lecturer | 2nd January 2009 | Continued |