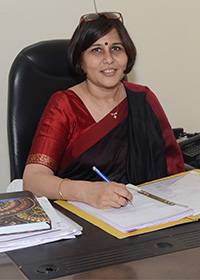 Name of Teaching Staff
Dr. Sonali Jadhav
Designation
Principal – AISSMS CHMCT
Dr. Sonali  Jadhav:  University of Pune Approval No: CCO/1565, dtd. 14.04.2009 w.e.f. 12.03.2009
Qualifications
DHMCT, BA (French), BHTM, MPM, PhD – Human Resources
She started her career in hotel sales as a team member of Rao Marketing Technology Ltd in 1989. This was an independent company providing marketing consultancy to various stand alone hotel properties all over the country. She headed the Western Regional office in India.
Having a passion for cooking, she changed her career path to set up a very trendy cafeteria with collage students as her target customers. In a short span of 6 years her customer base increased to almost 2000 as indicated in the cafeterias community on orkut in 1996.
Her career path changed once more when she ventured in the field of academic in 1998 when she joined Bharti Vidyapeeth's Institute of HMCT as a lecture in Food Production .She shifted to AISSMS College in 1999 & has been a part of the academics team for more than a decade. She was promoted to the post of a Principal in July 2008.
Having graduated in French major, she has co-authored the book,"Basic French for the hotel industry".
Professional Experience Hotel/Organization
Designation Held
From
To
AISSMS CHMCT
Principal
August 2008
Till Date
AISSMS CHMCT
Professor
September 2007
July 2008
AISSMS CHMCT
Asst. Professor
January 2004
August 2007
AISSMS CHMCT
Lecturer
July 1999
December 2003
BV's IHMCT
Lecturer
September 1999
March 1999
Tanay Enterprises
(Cafeteria)
Proprietor
April 1996
September 1998
Rao Hotel and Software Marketing Ltd
Area Sales Manager
November 1989
February 1993