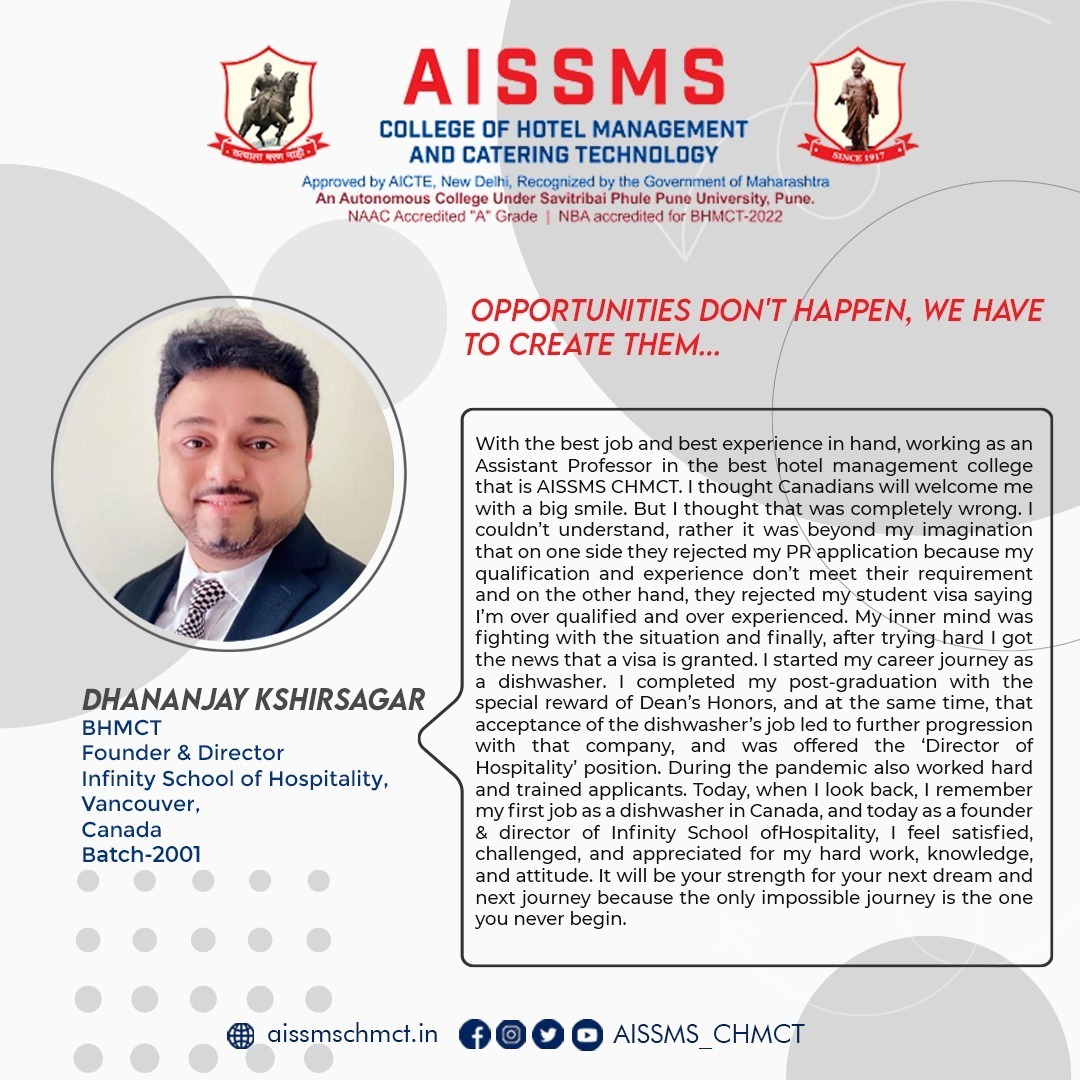 Dhananjay (DJ) Kshirsagar
BHMCT
Founder & Director Infinity School of Hospitality,
Vancouver,
Canada.
Batch - 2001
Success is a journey, not a destination. The doing is often more important than the outcome.
-Arthur Ashe-
I believe my success journey has been a roller coaster ride for sure. A lot of people see only flights landing at foreign airports but very few people acknowledge and experience the tough journey behind it. I had the best job as an Assistant Professor in the best hotel management college that is AISSMS CHMCT.  I thought having a good experience and qualification with me, Canadians will welcome me with a big smile. But I never thought that it would be so difficult to get Canada Visa and have to struggle for 2 & a half years for it.
Journey as a Student in Canada….
Applied for a student visa in September 2015. I was surprised as well as shocked to get the result in 8 days and guess what, it was a rejection of a student visa with the reason stating I am overqualified and over experience. I couldn't understand the fact rather it was beyond my imagination that on one side they rejected my PR application because my qualification and experience don't meet their requirement and on the other hand, they rejected my student visa saying I'm overqualified and over experienced. I wanted to give up by this time because I was tired, exhausted, drained out. But my dreams didn't give up. My inner mind was still fighting with the situation and finally, with the help of my immigration consultant I challenged them for my student visa after waiting for 1 month finally I got the news that my visa is granted, and I can fly to Canada soon.
Earlier day…….
After coming to Canada, my focus was on the complete my study successfully and finding a survival job.  But guess what, the first-ever job offered to me was 'Dishwasher' and without any hesitation I accepted it. I completed my post-graduation with the special reward of 'Dean's Honors'. And at the same time, that acceptance of the dishwasher's job led to further progression with that company, and finally was offered the 'Director of Hospitality' position. I was happy that I am able to earn Canadian experience and build my resume. At this point after completing 4 years in Canada in 2019, my mind started taking me back to the academic industry. My passion for teaching opened up a new door for me and I started teaching hospitality courses in a private institute. There was a time in 2019 when I used to work 5 days as a Director of Hospitality and 2 days teaching in an institute. It was a bit hectic, but I enjoyed it.
Impact of COVID – 19 ……
February 2020, the world got hit with COVID-19, and most of the industries including hospitality got set back. Fortunately, I was working in the healthcare sector of the Hospitality industry, and we needed more people to work during this pandemic situation. As a hiring manager, I was desperate to hire people. During that period, I went through many interviews and realized that there is a definite need for training courses, which will empower applicants to stand out from the crowd. The training courses would give applicants a competitive advantage.
Journey of Infinity School of Hospitality ….
The need for micro training courses gave birth to Infinity School of Hospitality. The concept of Micro-Credential is new and unique. Last year has been very exciting with many sleepless nights. Few of the academic leaders appreciated this concept and motivated me to continue to work at Infinity School of Hospitality. Finally, I got the biggest dream of life to achieve and fulfill. My ambition is to start and build my own Hospitality institute is laying a new pathway in front of me.
Today, when I look back, I remember my first job as a dishwasher in Canada, and today as a founder & director of Infinity School of Hospitality, I feel satisfied, challenged, and appreciated for my hard work, knowledge, and attitude. There is a long way ahead, but the journey is beautiful.
So, dream big and work hard to fulfill your dreams. Every one of you has the potential to be a successful chef, Food & beverage personnel, bartender, housekeeper, entrepreneur, and many more. Don't give up on initial failures; keep trying till you are successful. After you are successful take a pause, turn back and see how you reached here, try and treasure that journey of success. It will be your strength for your next dream and next journey because
The only impossible journey is the one ….
………. you never begin