Dr. Rina Dongre
Assistant Professor,
AISSMS College of Hotel Management & Catering Technology

How did the culinary profession get popularised?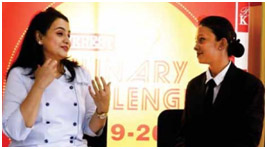 The first word that pops-up in the mind when you hear anything around 'chef' is 'Sanjeev Kapoor'! Undoubtedly he has played a major role in popularizing the culinary profession in India. He was the first chef to host a cookery show (Khana Khazana) on the television & with his charming charisma & lucid language he added more flavor to it. And with this he gave rise to the status of 'Celebrity Chef'. Students at the Hotel Management Institutes are distinctly motivated by him and more than 75% look upon him as a role model.
India owns many such celebrated chefs who are now wearing different hats post their success as chefs. Chef Sanjeev Kapoor is a co-owner of a company manufacturing cookware and bakeware. Chef Ranveer Brar was a brand ambassador for Philips India Kitchen Appliances, Barilla, Go Cheese, Bertolli olive oil etc. And today this list of popular chefs from India is quite exhaustive. In parallel, there are many Indian chefs who are now Michelin Stars which is considered as a very prestigious recognition in the hospitality industry. All of this notably contributes to opening opportunities for culinary professionals.
Hospitality, Tourism and its monetary benefits-
While counting the reasons for the popularity of culinary art, the 'increased disposable income which is paving the way for tourism' gets a prominent place in the list.  As hotels are an inseparable part of tourism, growth of hotels is directly proportional to that of tourism.
Having said that, becoming a 'chef in a five-star hotel' is not the only option available after completing hotel management / culinary course. There are many traditional as well as contemporary options available for chefs. The basics of all the food production operations remain the same even though the procedures may differ from place to place & from industry to industry. Hence there is an increased demand for the culinary graduates at all the places related to the production and service of food.
A Detailed List of top 19 choices available in the field of culinary-
Considering the amount of growth in the hospitality industry since decades now, doubtless while saying that it is here to grow even more and offer a wide range of scope to students who complete their Hotel Management degree from best HMCT Colleges.
Chef in star hotels & restaurants: This is the most common and known option & with experience, one can climb the ladder in the hierarchy. A fresher can join at a lower rank as commis or can even join as a management trainee in star hotels that can give a jumpstart for their culinary career. Apart from star hotels, opportunities are available in standalone restaurants, fine dining restaurants, QSR's (quick service restaurants like Pizza Hut, Domino's etc.)
Cruise lines: Minimum 1 year of experience in the star hotel is required to join a cruise line. However, there are some colleges which offer courses and have tie-ups with cruise companies where a student can be directly absorbed in the cruise kitchen/galley after his course completion.
Railways: IRCTC has now started recruiting hotel management/ culinary graduates for the various positions for their catering unit which provides excellent salaries & perks similar to Central Government employees.
Armed forces: Armed forces have started recruiting hotel management/ culinary graduates for their mess facility. Again, a government job perks.
Hospitals: With the modern lifestyle and rise in nuclear families, there is an increased demand for hospital catering and all the big hospitals have the facility of in-house catering.
Airline Catering: Catering facility provided to the airlines is another specialized function and is carried out by the flight caterers, where most of the operating hotel chains are like-Taj, Oberoi, Ambassador.
Temples: Prasad is an integral part of all the temples and in case of a big, popular temple it is provided in the form of a meal. The management and operations at these places are gigantic and lately have started recruiting hotel management graduates to bring in professionalism.
Entrepreneurship: Food products are always in demand. Thus, one can become an entrepreneur by opening an outlet as per his capacity and experience. Expansion of the business is always possible as once the goodwill is created, it helps to attract the customers.
Health food for gyms: Owing to the rise in online culture, there are many apps like 'Cult Fit' which give guidance regarding healthy foods. Many gyms are coming with the facility where the customers can avail the in-house healthy food facility along with the workout. Though these kinds of salads and soups type meals, creativity & knowledge of nutrition is a prerequisite for this kind of job.
Home chefs/Home bakers: Homemade will never go out of fashion. Infact today, people are ready to pay premium prices for the authentic dishes prepared by expert home chefs. Customized products become the USP of home chefs.
Caterers: This is a traditional career option available for providing food either on site or can be delivered. Traditionally, the caterers give their services only when the number of guests is substantial. However, with changing times, tapping the small groups market is the need as it holds immense potential.
Food styling blogging & photography: This is a new age career which is in great demand. These are people who share the recipes, experiences and photos related to food mostly online & can become influencers with time.
Books and assistant to culinary authors: Culinary books are in great demand. So, becoming an author or joining a team of so to develop the recipes is a great option for the ones who love writing.
R&D personnel in the food companies: Developing & Testing new products before launching require culinary professionals in many food companies.
Freelance consultants: Once you become experienced professionals with technical/business skills, awareness about regulatory requirements, market knowledge and business contacts can work as consultants.
Kitchen designers: In restaurant business, space is one of the most expensive things. One can gain the expertise in the kitchen designing & provide consultancy for the maximum efficiency of the available space for the smooth operation.
Personal chefs/Butler: While this is a limited market, the right skills can provide a monetarily rewarding career. This job allows a chef to be more experimental and imaginative. As an added benefit, this job also gives an opportunity to get connected with influential individuals.
TV shows: Owing to the popularity, dedicated channels like "Food Food' have been formed. This is another career opportunity to showcase the various food skills to a larger audience.
Instructor/ Teacher in IHMS: With all this demand for hotel management professionals, there will always be a need for experienced teachers who will train the future professionals. There is an ever-increasing number of IHMS that need experienced faculty members.
Rounding off my blog here as, the more you dive in and the more this list shall keep increasing. I hope this long lengthy list of new and exciting career opportunities for culinary professionals/students has shed light on the scope after the Hotel Management course. Food production being a daily and universal need, this market shall always have a corner untapped & open to explore. So all the best and may you have a dazzling career ahead.