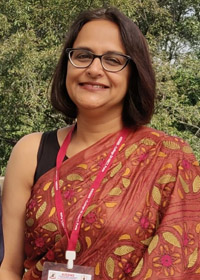 Name of Teaching Staff
Dr. Rasika Gumaste
Designation
Associate professor & HOD Examination
Dr. Rasika Ravindra Gumaste: University of Pune Approval No: CCO/957, dtd 18.03.2008 w.e.f. 02.01.2008
Qualifications
DHMCT, B.A., MPM, Msc. in Hotel and Tourism Management, Ph.D
She started her career as The Hotel Operations Management Trainee in Housekeeping with Taj Mahal Hotel, Mumbai.
She shifted her path from operations to Academics and has worked with some of the reputed Colleges in Pune. Her vast experience ranges over more than 10 years. She has been working with AISSMS CHMCT since 2008 as Assistant Professor. Her managerial expertise involves conducting short courses in House Keeping, running a 30 room property as an Accommodations Manager.
| Professional Experience Hotel/Organization | Designation Held | From | To |
| --- | --- | --- | --- |
| Taj Mahal Mumbai | HOMT | 1994 | 1995 |
| Raviraj Hotel, Pune | Consultancy | 1995 | 1997 |
| Dr. D.Y.Patil IHMCT | Lecturer | 1999 | 2001 |
| Dr. D.Y.Patil IHMCT | Lecturer | 2003 | 2005 |
| MSIHMCT | Lecturer | 2005 | 2007 |
| AISSMS-CHMCT | Associate professor | 2008 | Till date |