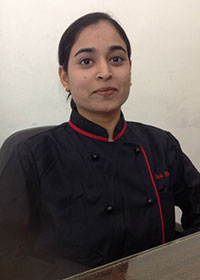 Name of Teaching Staff
Mrs. Rina Dongre
Designation
Assistant Professor
Mrs. Rina Machhindra Dongre: University of Pune Approval No: CCO/2057, dtd. 09.07.2013  w.e.f. 11.03.2013
Qualifications
Ph.D, BHMCT, MHTM, MIRPM, PG Diploma in Travel and Tourism
She possesses an ability to identify, understand and give priority to urgent issues. Her friendly personality and charisma have helped her to connect with students in her extensive years of teaching. A bright, talented and self-motivated person.
| Professional Experience Hotel/Organization | Designation Held | From | To |
| --- | --- | --- | --- |
| MSIHMCT | Lecturer | August 2009 | 15th January 2013 |
| G.H Raisoni College of HM | Lecturer | August 2008 | July 2009 |
| G.H Raisoni College of HM | Lecturer(Part Time) | July 2007 2008 | April 2008 |
| Rai University | Assistant Professor | March 2003 | June 2004 |
| SB Tirpude College of HMCT | Lecturer | Sept 2000 | February 2002 |
| Hotel Hardeo | Commis I | June 1999 | December 1999 |